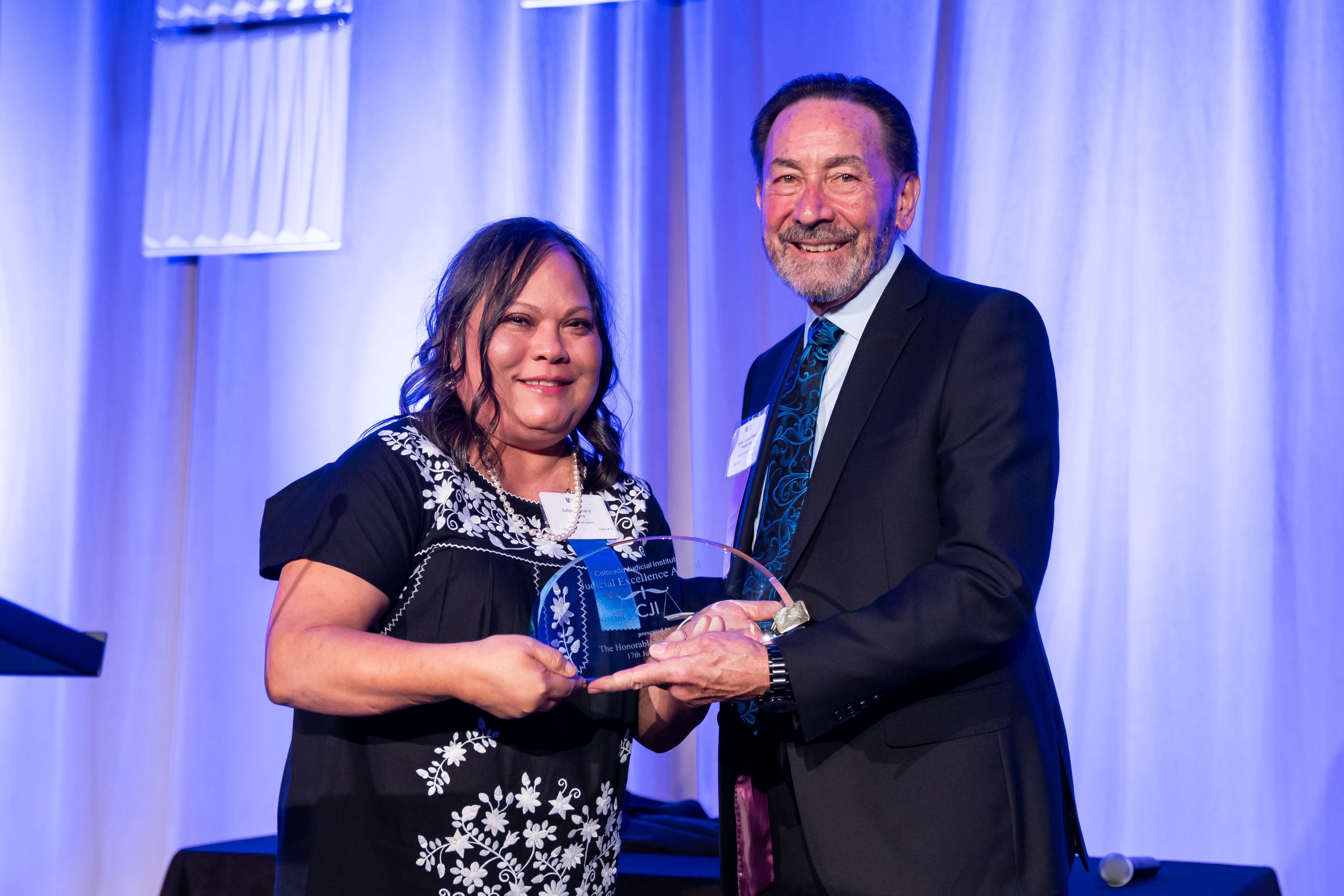 The Board and staff of the Colorado Judicial Institute were thrilled to welcome over 400 judges, attorneys, business and community leaders, and esteemed professionals to the Judicial Excellence for Colorado Gala, held October 26 in Denver. Together, we celebrated not only the strength of our state's judicial system but also paid tribute to three exceptional individuals who embody judicial excellence.
We proudly honored Magistrate Karen Hubler from the 2nd Judicial District, Judge Mariana Vielma from the 17th Judicial District, and Chief Judge James Boyd from the 9th Judicial District for their exemplary contributions to justice in Colorado.
And it is with deep appreciation that we thank those who generously contributed to our Judicial Education Fund in memory of the late Larry DeMuth. Larry, a steadfast supporter of CJI and the visionary behind its commitment to judicial education, was posthumously recognized with the CJI Lifetime of Service award.
Our annual gala is a testament to the unwavering dedication of our supporters. Year after year, we depend on the steadfast support and generosity of our gala sponsors, some of whom have stood by our side for all 21 years of this event. A complete list of all our invaluable contributors can be found here.
We also extend our sincere thanks to our in-kind sponsors who generously gave their time and skills, including Don Yost and Holland & Hart LLP for their video production services; Dan Diamond and Rocky Mountain PBS for their voiceover talents; Kathy Henry and Davis Graham & Stubbs LLP for their design services; and Michael Lopez and Litigation Solutions, Inc., for their printing services. The staff also thanks our event committee chair Tom Werge of Werge & Corbin LLC.
Thank you to all our attendees for helping make this year's gala a resounding success, and for your continued commitment to the Colorado Judicial Institute!