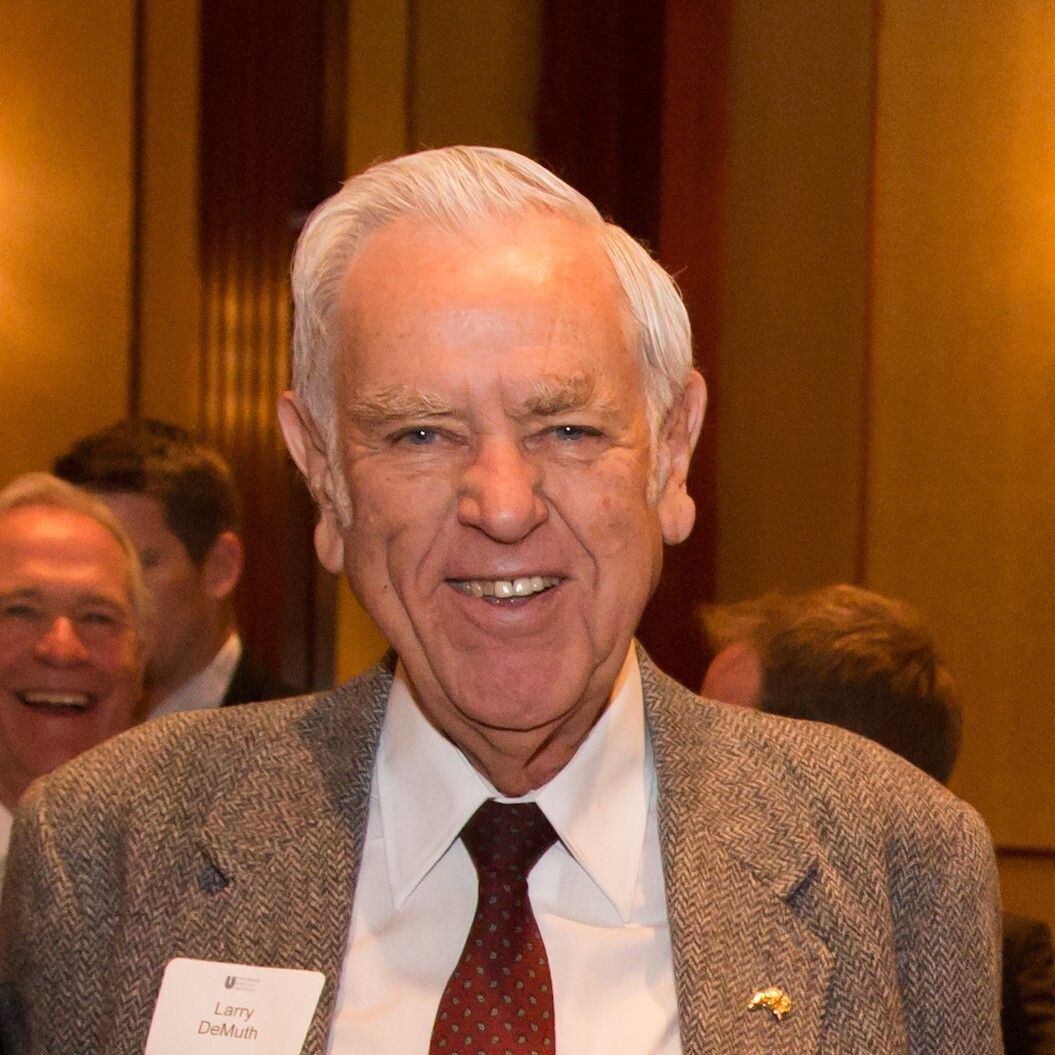 Laurence "Larry" DeMuth, Jr., longtime CJI board member and major donor, passed away October 5, 2023, just short of his 95th birthday. Larry was an active CJI member and supporter for decades.
Larry was a Colorado native who graduated from Boulder High School, CU, and CU Law School. He spent nearly five decades practicing law in the Denver metro area and retired from his General Counsel role at US West in 1992.
Over Larry's many years with CJI, he served multiple terms as a board member and committee leader. He also served three years as board chair.
In July 2000, Larry contributed to a videotaped panel on the history of CJI entitled "It's a Wonderful Life: How Would the World Be Different If CJI Did Not Exist." In the video, he was quoted as saying, "Since the mission of the Colorado Judicial Institute is to improve the public's understanding of our third branch of government and improve the way the branch operates, our directors must be capable of and willing to listen and learn."
True to his guidance, Larry was always willing to listen and learn and he was a major proponent of judicial education.
In 2014, in recognition of Larry's dedication to CJI, the then CJI executive director created the annual Larry DeMuth Volunteer Award which recognizes a CJI volunteer who has contributed exceptional time and effort to the organization.
In 2015, Larry endowed and lent his name to The Larry DeMuth Endowment for the Education of Colorado Judicial System. This endowment helps fund continuing education for Colorado judges independently of the state government's limited resources.
On a personal note, one could not meet Larry and not be stricken by his piercing blue eyes, wit, and general kindness. Sheila Gutterman, longtime CJI board member, wrote, "When Larry DeMuth entered the room with his huge smile and, oftentimes, hug, he radiated warmth and authenticity. Even though he was General Counsel and Executive Vice President of Mountain Bell & US West, he exuded humility and was, at all times, interested in judicial excellence and judicial education."
Another testimonial comes from former CJI board member Bob Miller, who wrote, "He was a true champion of the organization and contributed in more ways than any of us can ever know."
In September 2023, CJI Executive Director Jeff Rupp shared with Larry that CJI planned to honor him with a CJI Lifetime of Service Award at its upcoming gala dinner scheduled for October 26. Larry was happy to hear this, but even happier to learn that CJI planned to hold a paddle raise fundraiser to benefit judicial education.
"The Colorado Judicial Institute succeeds because we have individuals who are motivated and really care about the way our government functions and desire to contribute to the improvement of the judicial system."

—Larry DeMuth
Read Larry's official obituary here.