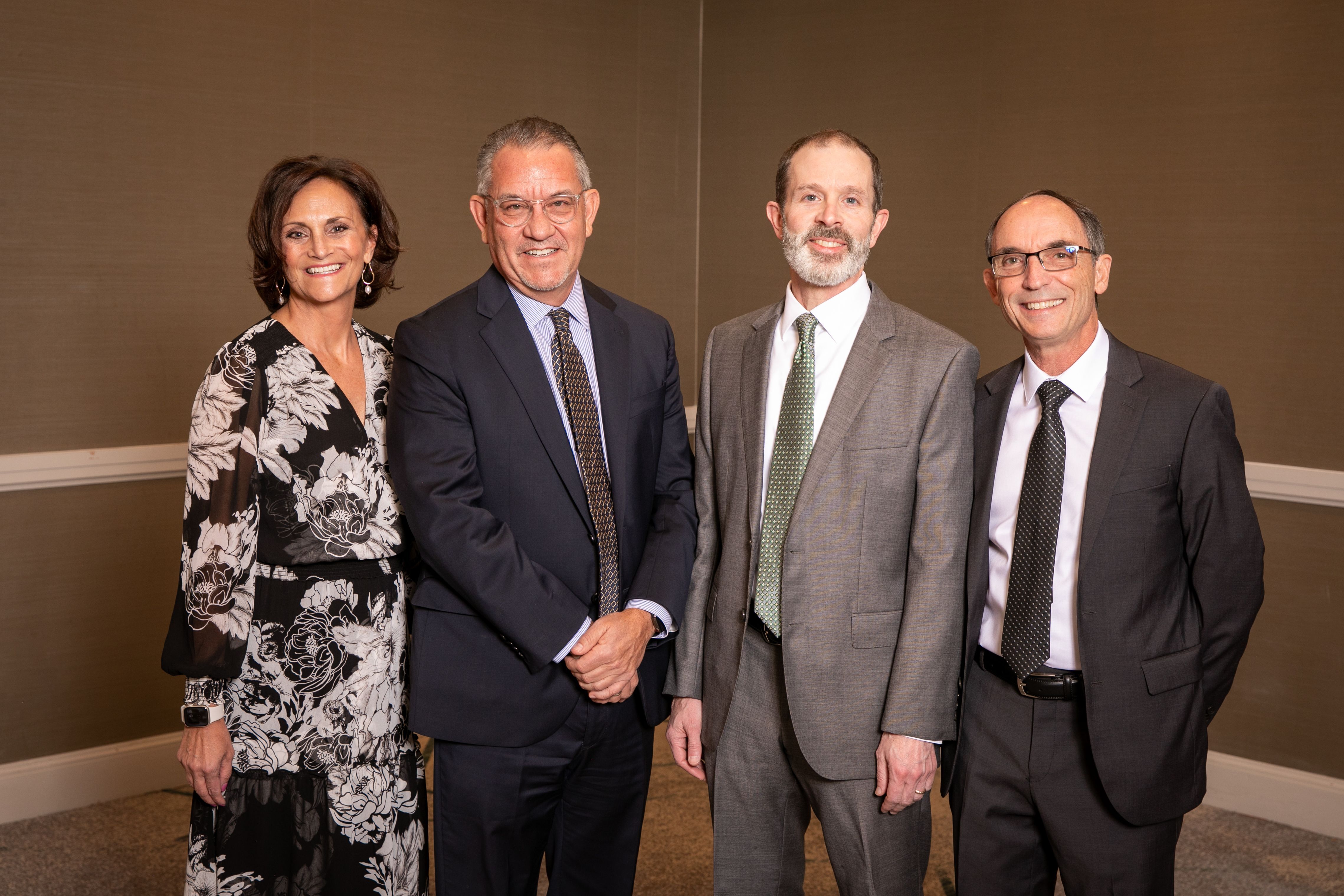 [Note: This article was originally published in Law Week Colorado. Reprinted with permission.]

The Colorado Judicial Institute hosted its 20th annual awards dinner Nov. 1 where four state judges were honored. [Ed.'s note: Watch the event video in its entirety here.]
Organizers estimated that a crowd of more than 500 people joined the dinner at the Sheraton Denver Downtown Hotel.
Since 2003, CJI has hosted an annual awards dinner to recognize judges that receive high praise for their work and to raise money for CJI's programs which include scholarships for judicial continuing education, public outreach and more. CJI is a nonprofit organization founded in 1979 with the goal to promote judicial excellence in Colorado.
At this year's dinner, speakers focused on trust in the judiciary and the role that CJI has played in representing judges in recent years.
Don Samuels, chair of CJI and a shareholder at Polsinelli's Denver office, opened the dinner by underlining how the organization has responded to key issues facing the judicial branch.
Samuels explained that ahead of the 2022 judicial retention elections in Colorado, the state's judicial branch is grappling with shaken trust.
In 2021, the Colorado Judicial Branch was the subject of scandal after a former employee alleged widespread misconduct and coverups in the branch. Most of the allegations weren't corroborated by independent investigations, but several allegations were backed up and lead to criticism by the public and lawmakers over transparency at the Colorado Judicial Branch.
While lawmakers plan to introduce legislation next session to address some of the concerns, Samuels emphasized that state judges in retention elections this year are still seeing fallout.
"There are, unfortunately, attacks on our judiciary, from the press and in the streets in connection with the judicial retention component of the upcoming election," said Samuels. "One of the main problems with these attacks is that the judiciary is bound by a code of judicial conduct, which among other things, prohibits the judiciary from, and I quote, 'engaging in political or campaign activity that is inconsistent with the independence, integrity or impartiality of the judiciary'… in other words, they get attacked, and they have one or both hands tied behind their backs. They are duty-bound and ethically prohibited from responding."
Samuels said CJI has advocated on behalf of state judges by appearing in front of the Colorado legislature, taking positions on proposed bills and by making public statements in response to criticism of the branch.
Since 2001, CJI has given out its Judicial Excellence Awards to state judges who have met high standards of work through efficient, expeditious and objective case and docket management, and through high levels of open communication, demeanors that promote accessibility and innovation in their courtrooms. Every year a panel of CJI selects a magistrate judge, a county judge and a district judge after they receive nominations from other judges, court staff, attorneys and other stakeholders in the legal system. This year, the panel honored two magistrate judges based on high praise for their performance.
Two magistrates from Mesa County in the 21st Judicial District, Kevin Kennedy and William McNulty, received this year's Judicial Excellence Awards.
According to CJI, Kennedy was selected for his welcoming demeanor and a particular interest in helping children who've experienced trauma navigate the justice system.
Kennedy grew up in California after he was adopted at age four. He graduated in 1987 from the Santa Clara University School of Law and worked in insurance defense in California for several years before he and his wife moved to Grand Junction. The couple adopted their daughter in 2001.
In Grand Junction, Kennedy worked as a solo practitioner before joining the bench as a magistrate in 2009. Since then, he's presided over a range of domestic cases including dependency and neglect, delinquency, truancy, traffic, child support cases and protection orders. His current docket oversees domestic and child support cases.
As a magistrate, Kennedy said he tries to lead with compassion, particularly for children who are involved in the justice system. As an adopted child, Kennedy said he draws from his own experiences and those of his parents to try and better understand what others are experiencing.
Kennedy thanked his family, staff and other members of the 21st Judicial District for their impact on his work as a judge.
"I was in and out of their courtrooms for years and I watched how they handled these insanely overcrowded dockets and through it all I also watched how they managed to treat everyone who appeared in front of them with dignity and respect," said Kennedy.
The second magistrate judge to receive the 2022 Judicial Excellence Award was Magistrate William McNulty, also from Mesa County in the 21st Judicial District.
McNulty was sworn in to the Mesa County court in 2009 after working as a public defender. McNulty grew up in Pennsylvania and Connecticut before moving to Dusseldorf, Germany at age 13 for his father's work. McNulty became interested in the justice system after working in low-income communities after his undergraduate degree and seeing how legal services can help those in need.
McNulty graduated from the Marshall-Wythe School of Law at the College of William & Mary in 1994 and moved to Colorado to work in the state's public defender office where he worked briefly in the Denver Metro area before he and his family moved to Grand Junction where he eventually joined the bench.
CJI explained McNulty was selected for the 2022 award after he received praise for his ability to focus on the needs of litigants who appear before him.
"In this time, where a lot of people distrust our institutions and our legal system, I'd like to think that we can restore faith in our system one case at a time," said McNulty. "It starts with me helping people be heard and to have a fair opportunity to say what I need to hear. And if I can help them not be in a flight or fight mode, then it usually is a better day in court."
He added he's grateful that Colorado's judicial retention system doesn't require judges to put on the hats of politicians, as state judges in other states sometimes have to do.
"We are grateful that we can focus on our litigants as people, not problems, not as some terrible posts that they shared on social media, not as someone on their worst day instead as a reflection on who they have the potential to be," said McNulty.
Boulder County Court Judge David Archuleta of 20th Judicial District received CJI's county judge Judicial Excellence Award.
Archuleta was born and raised in Boulder and received both his undergraduate and J.D. from the University of Colorado Boulder. After graduating from law school, Archuleta worked briefly in private practice before serving as a deputy district attorney in the 20th Judicial District for around 10 years. When he applied to the Boulder County bench in 1999, Archuleta said he gained a new understanding for both the law and the community he grew up in.
"One of the most important things that I discovered after a few years on the bench is that it is not about the nuts and bolts of the job that make such an impact. It is not about evidentiary rulings or interpretation of statutes," said Archuleta. "These things are important of course, but the real focus should be on making sure that you never forget about the people that we serve."
CJI explained that in his nomination, Archuleta was described as bringing a compassionate approach to litigants experiencing homelessness, mental illness and addiction. His colleagues described Archuleta's courtroom as a collaborative one that focuses on serving the Boulder County community.
Archuleta echoed that he's grateful that as a judge he doesn't need to run in political elections. "I get to decide to do what I think is right, based on the law and the facts of the case."
The final 2022 Judicial Excellence Award went to Michelle Amico, chief judge of the 18th Judicial District, Colorado's largest judicial district covering Arapahoe, Douglas, Elbert and Lincoln counties.
Amico was born in Detroit to a large Italian family. She moved to Broomfield as a child and went on to major in criminal justice at the University of Arizona. As an undergraduate, Amico had her first experiences with the legal system during a work-study job where she helped an attorney who provided legal aid services to students. She was inspired to keep exploring the law and went on to volunteer as a court-appointed special advocate for children.
Amico returned to Colorado to attend the University of Denver Sturm College of Law where she graduated in 1993. As a law student, Amico represented low-income clients in civil matters and recalled courts weren't always interested in hearing a client's story. Amico said that experience inspired her to work diligently to ensure everyone has a voice in the legal system.
After law school, Amico went on to work as a deputy DA, and later a chief deputy DA in Denver before she was appointed as an 18th Judicial District Court judge in 2012. Amico was elevated to the district's chief judge in July 2018 and led the district throughout the COVID-19 pandemic.
CJI selected Amico based on high praise she received for her leadership in the 18th Judicial District during the pandemic as well as her communication skills with the Colorado Bar Association and other justice system stakeholders.
"I believed justice was not about wins and losses, rather making individual decisions on each and every case I handled," said Amico.
Amico also acknowledged that public trust in the judicial branch has taken a hit but emphasized that judges, and everyone else in the justice system, can play an active role in rebuilding trust.
"Now is the time for us to restore the faith and public trust in our branch. I suggest everyone here who works in our great system of justice, that we do that one day at a time, we do that one client at a time, we do that one litigant at a time, by keeping our focus on humanity. That's what we need most in the world today than anything else. Treat each other well and treat those that we serve well. Make a difference in somebody's life."