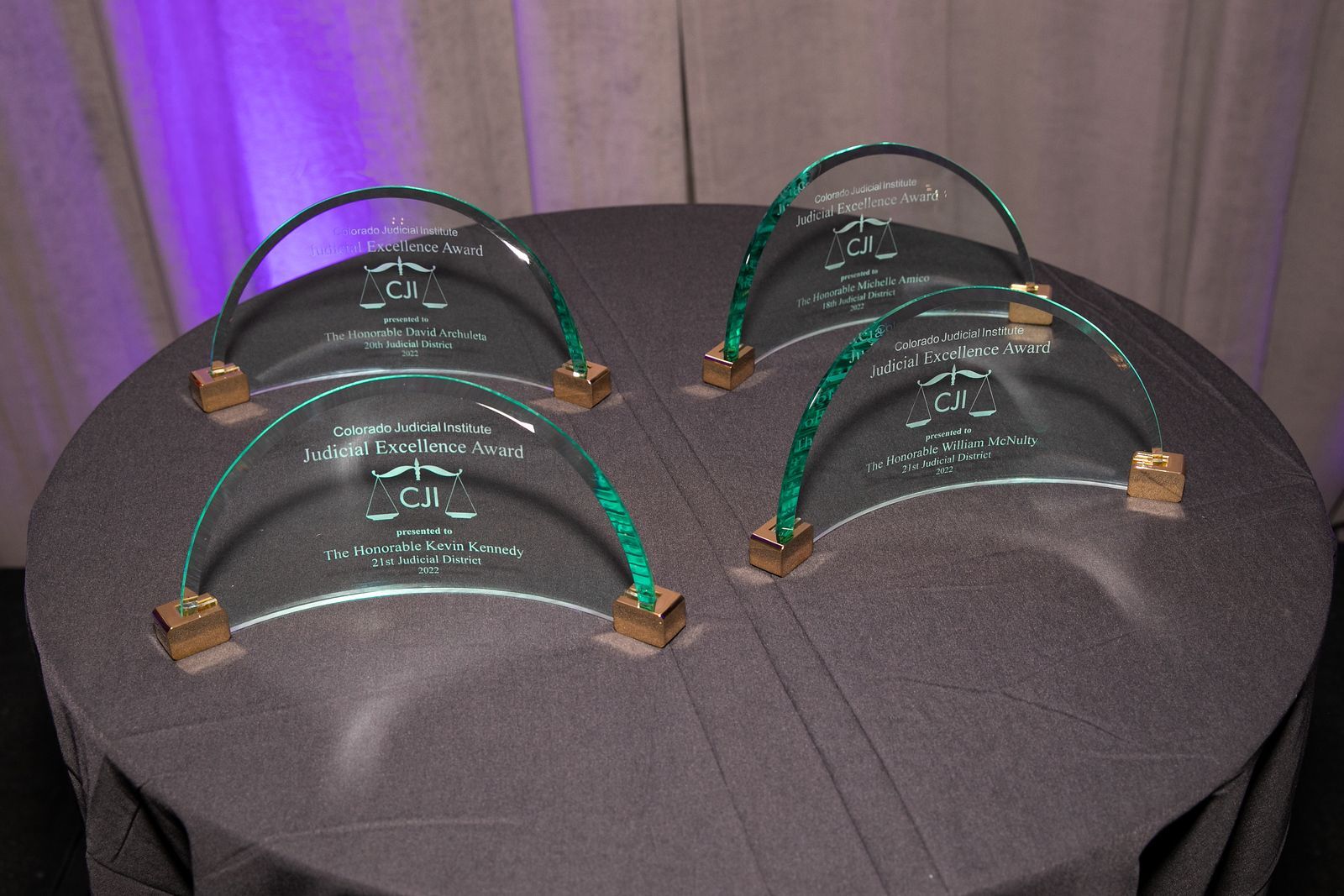 The COVID-19 Pandemic has hammered Colorado's courts as hard as it has pummeled business and social affairs in the state. But the 2020 version of the Colorado Judicial Institute's 18th annual Judicial Excellence for Colorado awards was proof that not even a deadly virus could weaken Colorado citizens' commitment to fair and impartial courts.
The Colorado Judicial Institute (CJI) is a private, non-partisan citizen organization dedicated to preserving fair and impartial courts in Colorado while fostering excellence in the state's judiciary and furthering public understanding of the legal system.
This year, CJI honored Pueblo District Judge Larry C. Schwartz, Denver County Judge Theresa Spahn, and Fourth Judicial District Magistrate Jami Vigil of Colorado Springs. CJI also saluted retired Judge Robert Hawthorne of the Colorado Court of Appeals and Colorado Supreme Court Justice Nathan B. Coats. Finally, CJI also recognized the extraordinary efforts of Colorado's court system in coping with the COVID crisis with a special award to the Chief Judges Council, which has been leading the response. Chief Judge James Hartmann, 19th Judicial District, and Chief Judge Michael Martinez, 2nd Judicial District, accepted the award on behalf of the Chief Judges Council.
The Judicial Excellence awards have long been a leading social event in Colorado's legal community. Besides supporting a merit selection system hailed by experts as one of the nation's finest, the annual dinner provided a useful chance to socialize and network among many of the state's leading and aspiring legal figures.
However, that was pre-COVID. This year, the pandemic forced CJI to adopt a "virtual" ceremony, bringing the awardees and ceremonies to the public via Zoom and YouTube. That raised fears that the ceremony would not raise the money that in past years CJI has used to provide scholarships to train state judges and court personnel in new and emerging legal issues.
That fear faded as Colorado law firms, businesses, and citizens interested in justice issues stepped forward to sponsor the virtual event, paying real money to support Colorado courts and citizens in the face of legal adversity. Joshua Anderson, CJI executive director, announced that the ceremony raised more than $92,000 to support judicial education and other programs.
The awards were presented and recorded at Nelson Mullins Riley & Scarborough LLP. The full ceremony can be seen on YouTube at https://youtu.be/UbQOF26MgqY.
Chief Justice Coats accepted his award while thanking CJI and the legal community for helping cope with the twin quagmires of the pandemic itself and an accompanying fiscal crisis caused by the severe recession. State and local courts have had to cut more than 200 positions as tax revenues plummeted, the Chief Justice said.
Judge Hawthorne, honored for 47 years of outstanding service in the state legal system, has long been an active leader and board member at CJI himself. He remains active as a senior judge as well as an arbitrator and mediator.
The trial court honorees were introduced by a video narrated by Judge Terry Fox of the Court of Appeals, Shannon Stevenson, and Sam Walker.
Judge Schwartz was "raised by a hard-working single mom" who inspired his passion for excellence. "His door is always open, and if he doesn't have an answer to your problem, he'll stop what he's doing and find one," a colleague noted.
Judge Spahn was the founding executive director of the Colorado Office of the Child's Representative, a nationally recognized state agency that provides guardian ad litem representation in state courts. The agency represents more than 19,000 children annually who were the subject of dependency and neglect, domestic relations and delinquency, and other cases.
Magistrate Vigil was hailed as "the hardest working judicial officer in the 4th Judicial District. In addition to presiding over a juvenile docket, she supervises three treatment courts: a family drug treatment court, a baby wellness treatment court, and is in the process of instituting a juvenile wellness treatment court on top of presiding over our DUI court."
Besides honoring judicial excellence, CJI's annual awards ceremony helps promote that excellence by raising money for CJI's efforts on behalf of education and training for Colorado judges and court personnel. CJI also uses those funds to support the merit system of judicial selection that Colorado voters established in a 1966 constitutional amendment.
In many states, judicial elections are hotly partisan and heavily financed by the very lawyers and litigants that later appear in those same courts. In contrast, when a vacancy on the bench occurs in Colorado, non-partisan review commissions review potential replacements and nominate two or three candidates to the governor. Once appointed, a judge serves at least two years before facing voters in a retention election. If voters decide not to give the judge a full term, the merit process starts over again. If retained, the judge serves a term of ten years on the Supreme Court, eight years on the Court of Appeals, six years for the District Court, and four years for county courts. At the end of the term, the judge can stand for retention to another term but may not serve in office past his or her 72nd birthday.
The merit selection system is backed by high standards for judicial conduct and performance. An independent commission on judicial discipline reviews complaints against judges and may institute disciplinary or removal proceedings for violation of the Judicial Conduct Code. This commission also may retire a judge for disability of a permanent character interfering with performance of duties.
---
Bob Ewegen, who retired from The Denver Post in 2008 after more than 36 years at the newspaper, is CJI Journalist in Residence and an emeritus member of the CJI board.