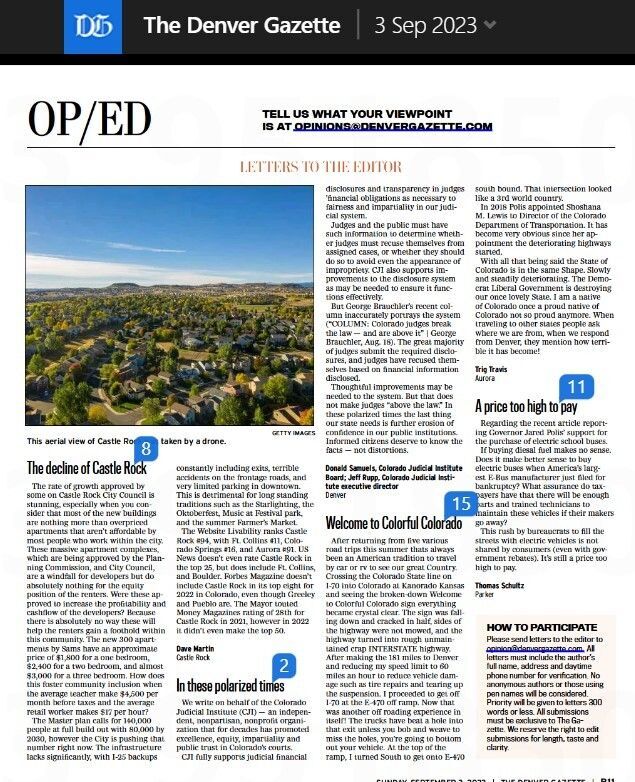 [Note: This CJI letter to the editor originally appeared in the September 3, 2023, issue of The Denver Gazette in response to a George Brauchler column. Reprinted here with permission.]
We write on behalf of the Colorado Judicial Institute (CJI) — an independent, nonpartisan, nonprofit organization that for decades has promoted excellence, equity, impartiality, and public trust in Colorado's courts.
CJI fully supports judicial financial disclosures and transparency in judges financial obligations as necessary to fairness and impartiality in our judicial system. Judges and the public must have such information to determine whether judges must recuse themselves from assigned cases, or whether they should do so to avoid even the appearance of impropriety. CJI also supports improvements to the disclosure system as may be needed to ensure it functions effectively.
But George Brauchler's recent column inaccurately portrays the system ("COLUMN: Colorado judges break the law — and are above it" | George Brauchler, Aug. 18). The great majority of judges submit the required disclosures, and judges have recused themselves based on financial information disclosed.
Thoughtful improvements may be needed to the system. But that does not make judges "above the law." In these polarized times the last thing our state needs is further erosion of confidence in our public institutions. Informed citizens deserve to know the facts — not distortions.
—Donald Samuels, Colorado Judicial Institute Board; Jeff Rupp, Colorado Judicial Institute Executive Director, Denver